The Future is in One Hour: Estonian Art in the 1990s
Location: 4th floor, B-wing 
The exhibition departs from the rupture caused in the Estonian society by the end of the Cold War and the regaining of independence. In Estonia, the 1990s were a transition era. The country had been freed from the Soviet Union (1991) and began to rebuild a liberal democratic society based on a market economy. The title of the exhibition has been borrowed from the lyrics of a 1993 song by the legendary Estonian punk band J.M.K.E., which captures the absurd atmosphere of the decade that turned almost all values upside down.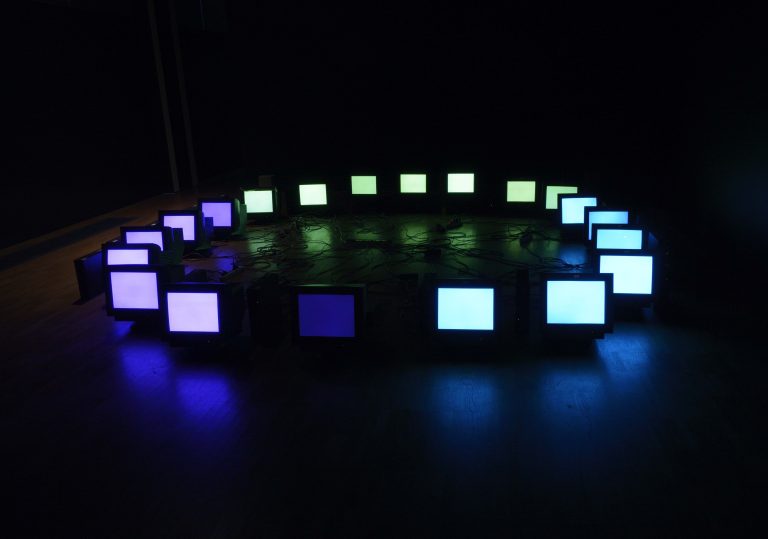 In the art field, the 1990s were a revolutionary era, characterised by discontinuation, the opposition between generations, new media and novel art policy. Estonians started to regularly organise international art events – festivals and biennials – and Estonian artists travelled abroad more and more to take part in significant art gatherings all over the world. Expanding horizons had a considerable impact on local artists. At the same time, the transition society was at a loss as to how to link the social revolution with artistic expression. Such uncertainty is evident in the fact that quite a few artistic phenomena back then were difficult to categorise or to even call trends or movements.
In 1994, the Cultural Endowment of Estonia resumed its activities and one of its first steps was to assign a fixed amount of money to art museums for acquiring new works of art. For the Art Museum of Estonia, such autonomy in purchasing decisions was totally new, for in the Soviet times the museum itself did not have a say in what it added to its collection. Now, the museum could actually participate in policy-making and define itself as a source of independent art expertise.
The focus of the exhibition is on new media (photography, videography and installation art) which caused a major shift in the art scene of the day. The human body became a focal image as it was now possible to treat it differently from previous decades, so artists experimented with it extensively in various media and on different levels of meaning. Artists often stressed their own physical experiences.
The display includes artists who influenced the art scene of the 1990s with their innovative imagery and choice of topics both at the domestic and international levels. The exhibition has been supplemented with archival materials to give visitors an inkling of the peculiarities of the post-Soviet cultural space and art scene.
Participating artists: DeStudio, Inessa Josing, Toomas Kalve, Kiwa, Marco Laimre, Laurentsius, Anu Põder, Mark Raidpere, Ene-Liis Semper, Liina Siib, Hannes Starkopf, Jaan Toomik, Mare Tralla, Mart Viljus, Toomas Volkmann.
Curator: Eha Komissarov
Exhibition team: Tiiu Parbus, Annika Räim
Exhibition design: Raul Kalvo, Helen Oja
Graphic design: Tuuli Aule
We thank: National Archives of Estonia – Film Archives, Estonian Public Broadcasting, Tallinnfilm, Estonian Film Institute
Supporters